Elva Lee Trent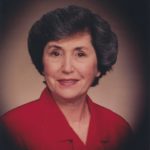 Hampton, Va. – Elva Lee Trent, 84, passed away on Sunday, October 20, 2019. Elva Lee was born in Clifton Forge, Virginia and graduated as valedictorian of Clifton Forge High School. After graduating high school, she was employed at her mother's clothing store until she met her husband and moved to Hampton, where they have lived for the last 55 years. She was a loving and devoted wife and mother.
Elva Lee is survived by her husband of 55 years, Douglas 'Duke' Trent; a son Stephen Berry and his wife Mary of Richmond; a daughter Cara L. Holt and her husband Greg of Gloucester; and 2 grandsons, Ryan and Shane.
A graveside service will be held at 2:00 pm at Parklawn Memorial Park in Hampton, VA. Memorial may be made to the Alzheimer's Association Home Office, 225 N. Michigan Ave., Fl. 17, Chicago, IL 60601. Arrangements by Amory Funeral Home, Grafton.