Elsie Moore Parker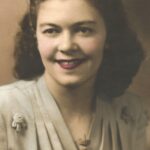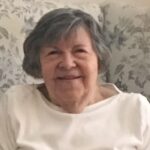 Elsie Moore Parker, 98, of Yorktown, Virginia, passed away peacefully on Thursday, August 5, 2021. She grew up in Poquoson, Virginia, but spent most of her adult life residing in Williamsburg, Virginia. After retiring from the Colonial Williamsburg Foundation, she discovered her love of and talent for painting. She was also a faithful volunteer for Williamsburg Baptist Church, where she was a member for more than 60 years.
A loving wife, mother, grandmother, and great-grandmother, she is survived by two sons, James (Jimmy) Parker of San Antonio, TX and Richard Parker (Lois) of Yorktown; four granddaughters, Kelly Linares (Christian), Jennifer Reyes (Ray), Jhoana Jackson (Johnnie) and Kristina Olsen-Hayes (Brett); two great-granddaughters (Liv Linares and Sydney Olsen); and her sister, Jean Morse of Poquoson.
Elsie was preceded in death by her parents, Collis and Eunice Moore; her husband of 75 years, James "Ed" Parker; a sister, Elizabeth "Sis" Compton; and two brothers, Collis "Junie" Moore, Jr. and Edward Moore.
A memorial service will be held at 10am on Thursday, August 12, 2021 at Amory Funeral Home in Yorktown, VA. The family will receive friends following the service. A private family burial will be held later.
In lieu of flowers, the family requests that those wishing to express sympathy consider making a donation to their favorite charity in Elsie's name.