Elma Dare Gravely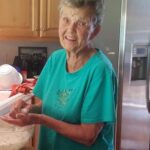 Seaford, Va. – Elma Dare Gravely, 82, passed away on Sunday, January 12, 2020. Elma was a native of North Carolina and a Seaford resident since 1961. She was a member of Seaford Baptist Church. Over the years she spent her time cleaning houses and had a loyal customer base. She went on to serve as a caregiver to many of those she cleaned for. She was well known in the county and she never met a stranger. She enjoyed sitting at Pop's or at her own kitchen table talking over a hot cup of coffee. Elma was a wonderful mother, grandmother, great grandmother and sister.
She was preceded in death by her husband Donald Gravely, her parents Lewis and Alice Morris, a sister Colleen Ragans and brothers, William and Carl Morris. She is survived by her children, Tammy Shephard (Duane) of Suffolk, Leroy Millner, Jr. ( Denise) of Florida, Vicki Faust (Steve) of Dandy, Jennifer Millner (Stefanie) of Dare and her siblings, Shirley Landrum, Kitty Mae Gause, Elva Lee Wallace, and Tommy Morris (Inez) all of South Boston and Nannie Presson (Billy) of Seaford; step daughters, Debbie Ellis (Bob) of Smithfield and Sherry Collins of Chesapeake. Elma is also survived by her 10 grandchildren, Samantha, Stephenie, Joshua, Angela, Stevie, Ashlyn, Sierra, Cole, Luke and Ella and 10 great grandchildren, Stephen, Crystal, Savannah, Chloe, Riley, Parker, Olivia, Aston, Skylar and Olivia.
A memorial service will be held at 1:00 Pm on Friday, January 17, 2020 in Seaford Baptist Church. The family will receive friends one hour prior to the service.
Memorials may be made to South Eastern Chapter Alzheimer's Association .