Elizabeth "Liz" Ann Hogge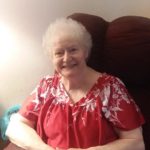 Yorktown, Va. – Elizabeth "Liz" Ann Hogge, 72, passed away on Wednesday, August 14, 2019. Liz was a native of Alabama and a peninsula resident for 45 years. She was a loving and devoted wife, mother, sister, grandmother and great- grandmother.
She was preceded in death by her husband Norman Stewart Hogge and a son David Lee Hogge and is survived by her children, Missy Vaughn (Malcolm) and Rick Taylor her siblings, Frank Garrard, Betty Sigmond and Mary Ross along with 4 grandchildren, Louis Barbour, III (Ashley) Ryan Birch (Jackie) Hailey Hoffman and Zoey Vaughn and 2 great grandchildren, Joshua Birch and Bentley Barbour.
A funeral service will be held at 2:00 PM on Tuesday, August 20, 2019 in Amory Funeral Home Chapel with interment to follow in Hampton Memorial Gardens. The family will receive friends on Monday from 6:00 to 7:30 in the funeral home.
Memorials may be made to the York Baptist Temple, 319 Dare Road, Yorktown, Va. 23692.