Elizabeth Beatrice Schaffner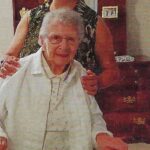 Yorktown, Va. – Elizabeth Beatrice Schaffner, 99, passed away on Saturday, March 25, 2023.
Elizabeth was a native of New York and a peninsula resident since 1991. She was a member of St Joan of Arc Catholic Church.
She was preceded in death by her husband William J Schaffner and 13 brothers and sisters. She is survived by her son and his wife Robert Schaffner and Christine, 2 granddaughters and 2 great granddaughters.
Graveside Service will be at 11:00 AM on Tuesday, April 11, 2023 in St Mary's Our Lady of the Snow Cemetery in Saugerties, New York. Arrangements by Amory Funeral Home, Grafton, VA.