Elfriede "Omi" Emilie Watson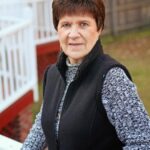 Seaford, VA – Elfriede "Omi" Emilie Watson, 84, was taken home peacefully in her sleep by her Lord and Savior on December 19, 2022 after a battle with cancer.
During her illness, she was surrounded by loved ones, caring for her and loving her. She faced her battle courageously and never complained. Elfriede knew her life would not be over after her passing.
Elfriede was born in Kassel, Germany. In her late teens, she married military, gave birth to a daughter, and moved stateside six weeks later. Not speaking the English language, this was a courageous move. She was loved and embraced by her North Carolina family. Elfriede was a homemaker and an excellent one at that. She learned the English language well, could knit, crochet, sew and made so many beautiful gifts over the years. She was a petite, quiet, soft-spoken woman, but had the biggest heart. Always wanting to do and give to others. She loved her family so deeply and her greatest joy was to be with family.
Elfriede was preceded in death by her husband, Nathan Dee Watson; a sister Inga Nickel; and a brother, Günter Lumm. She is survived by a daughter, Sylvia Watson Davis and her husband, Michael of Seaford; two grandchildren, Allen Nathan Davis and his wife Tatem of Yorktown and Jamie Michelle Fox and her husband Chris of Yorktown; four great grandchildren, Tyson and Colton Fox and Elijah and Aubrie Davis.
A service will be held at 11:00 a.m. on Thursday, December 29, 2022 in Amory Funeral Home, with Rev. Michael Howard officiating. In lieu of flowers, please send donations to the local York County Fire and Life Safety: 301 Goodwin Neck Rd, Yorktown, VA 23692.