Eleanor "Ellie" Carteret Reed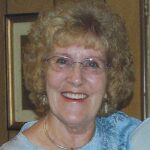 Seaford, Va. – Eleanor "Ellie" Carteret Reed passed quietly from this life on 17 March 2020. She is preceded in death by her husbands, William Reed and Robert Carteret, and a sister Linda. She was the proud mother of Lynn (Jimmy), Shirley (Shawn) and Robert (Nicole) and stepmother to Karen (David), Billy (Penny) and Joey. She is also survived by her grandchildren, Zach, Amanda, Samantha, Christopher, Hannah, Casey and Kinsley. Her surviving siblings are Fred (Sarah), Betty (Larry), Lance (Imelda) and Susan (Larry).
A graveside service is planned for 1:00 pm on Friday, the 20th, at Peninsula Memorial Park. The family requests that in lieu of flowers that donations be made to the York County Fire and Rescue, P.O. Box 532, Yorktown, Va. 23692. Arrangements by Amory Funeral Home, Grafton, Va.