Elbert Barton "Buzz" Barker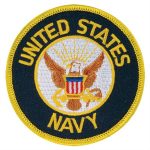 Yorktown, Va. – Elbert Barton "Buzz" Barker, Jr. died on Sunday January 17, 2021. He was born on August 6, 1942 to the late Elbert Barton Barker and Dorothy Bristol Barker. He is survived by Ann Power King Barker, his wife of 44 years, his sister Bonnie Hooper (Charles), his brother-in-law John Granville King, Jr. three nephews and one niece, three great nieces and one great nephew.
He formed Barker & Associates Inc., a local real-estate and appraisal company from which he retired after serving 38 years as president. He also retired from the Navy after 27 years of service active and reserve duties.
A graveside service will be held at 3:00PM on Friday, January 22, 2021 in Peninsula Memorial Park with Rev. Dr. Marc Mason, officiating. The family will be at the residence. Arrangements by Amory Funeral Home, Grafton, VA.