Edward D. Upchurch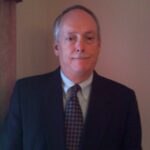 Yorktown, Virginia, Edward D. Upchurch, 64, passed away on Saturday, October 23, 2021 at his home.
He was a native of Fayetteville, North Carolina, and a resident of Yorktown, Virginia,
Ed retired as a District Manager with RGIS Inventory Specialist in Newport News after 27 years of service and had worked for Lowes in Gloucester for 6 Years. He was a member of Seaford Christian Church.
He is survived by his loving wife Rhonda of 33 years, his children Stefanie of Richmond, VA and Michael of Hampton, VA.
A funeral service will be held on Tuesday, November 2, 2021 at 11:00 AM in the chapel of Amory Funeral Home, Grafton, VA with Rev. Chris Cuthbertson officiating. The family will receive friends on Monday, November 1, 2021 from 6:00 to 8:00 PM in the funeral home. Interment will be held in Parklawn Memorial Park, Hampton, VA following the service.
In lieu of flowers memorial donations may be made to Seaford Christian Church, 1709 Seaford Rd, Seaford, VA 23696.