Edna Mae Moon Glazier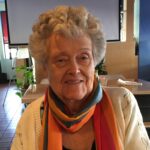 EDNA MAE (MOON) GLAZIER was born to Minnie Belle (Stanclift) Moon and Wilbert James Moon, in New Castle, Lawrence County, Pennsylvania, on January 22, 1928, and died on November 24, 2022. She had one sister, Helen Louise (Moon) (Barney) Anderson. Both Barney and then Helen predeceased her in death.
Edna was a member of Bethel Baptist Church of Yorktown, Virginia. She was a graduate of New Wilmington High School, Pennsylvania. She received her RN from Ravenswood Hospital School of Nursing, in 1954 in Chicago, Illinois. She worked as a Registered Nurse for 40 years in Minnesota, Michigan and Florida.
On July 8, 1955, she was united in marriage to Lon Dale Glazier in Chicago. The couple had four children: Melvin James (Carol) of Belleville MI, Marjorie Ann (W. Jay) Schell of Yorktown VA, Craig Allen (Linda) of Livonia MI, and Ruth Ellen Wilson of Las Cruces NM. They had seven grandchildren and 5 great grandchildren.
The Glazier's lived in Romulus Michigan until moving to Spring Hill, Florida in 1978. In 2009, upon the death of her husband, Lon, Edna moved to Virginia to be closer to her daughter, Marjorie.
The memorial will be at Bethel Baptist Church, 1004 Yorktown Rd., Yorktown, VA on December 10, 2022, at 2:00 PM. Interment of the ashes will be later in the spring in the Ithaca Cemetery, Gratiot County, Michigan.