Edna "Lee" Noack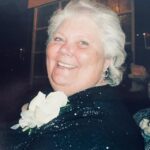 Edna "Lee" Noack (70) of Newport News, Virginia, had a way of getting things done. Lovingly referred to as "General Lee", she was the unwavering leader and matriarch of the Noack family. Her proudest accomplishment was raising three incredible sons with her husband of 43 years, Bob Noack (Newport News, Va.).
Whether it was her devotion to ministry and mission work for the Church, volunteering with Meals on Wheels, her charitable devotion to Samaritan's Purse boxes or her 25-year career as a high school math teacher, Lee was determined to make the world a better place and touched countless lives through her generosity of spirit.
A social and ever-curious soul, Lee's passions in life were traveling to see all fifty states, scrapbooking, history, sharing meals with friends, and her family. Often referring to her grandbabies as her sunshine, she was a devoted Nana and reveled in spending time making memories with each of them.
Lee passed away suddenly on August 29, 2021 and is survived by her adoring husband of 43 years, William "Bob" Noack, their sons: Steven Noack (wife Sara, son Mason), Daniel Noack (wife Ashley, son August), and Jared (wife Kari, children Cayleb, Ella, Everett and Meadow), step daughter Shannon Joye (daughter Ashley), sisters Marian Paschal Connie Jutras and brother Kenny Dodd as well as many other family members and lifelong friends.
Lee was born in Beckley, West Virginia to Julian Broaddus and Frances Marie (Grimmett) Dodd, with whom she is now reunited.
A memorial service with the family is scheduled at 10am Friday September 3rd with a reception immediately following at Faith Fellowship 112 Schoolhouse Lane Williamsburg Va. 23188. In lieu of flowers, please send donations to Samaritans Purse Boxes.