Earline Virgnia Gilbert Barry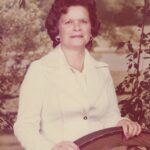 Yorktown, Va. – Earline Gilbert Barry, 90, passed away on Tuesday, December 7, 2021. Earline was a native of Messick and was a lifelong resident of the peninsula. She was a child care provider all her life from taking care of her children and moved on to grandchildren, great grandchildren and her great-great grandchildren. She was member of Hornsbyville Baptist Church and she loved to dance at the Moose Lodge.
She was preceded in death by her husband's Jack Lamar Bell and John Joseph Barry and a son Jerry Bell. She is survived by her daughter, Jacqueline Russell (John) of Yorktown and a brother William Gilbert and her sisters Doris Wiley and Marie Grindstaff as well as 13 grandchildren, 39 great grandchildren and 14 great-great grandchildren.
A funeral service will be held at 6:00 PM on Saturday December 11, 2021 in Amory Funeral Home Chapel. The family will receive friends one hour prior to the service. A graveside service will be held at 3:00 PM on Tuesday, December 14, 2021 in Parklawn Memorial Park. Arrangements by Amory Funeral Home, Grafton, VA.