Dr. Jeffrey Neil Blanton, Sr.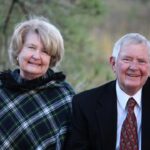 Seaford, Va. – Dr. Jeffrey Neil Blanton, Sr., 76, passed away on December 18, 2022, ending a three-year fight against cancer.
Jeff was born on June 21, 1946 to Emma Elizabeth (Martin) and Earl Hazle Blanton, Sr. The youngest of five siblings, with an age difference of 20 years from oldest to youngest, Jeff grew up as uncle to nieces and nephews who were also among his closest friends and classmates growing up in York County, Virginia.
A lifelong Virginian, Jeff was raised in Seaford, Virginia, and graduated from York High School in 1964. From there, he went on to become a "triple Hoo", earning a B.S., M.S., and Ph.D. in Aerospace Engineering at the University of Virginia in Charlottesville.
Jeff and Anne Eley (Campbell), his devoted wife of 54 years, met as teenagers at Zion UMC in Seaford. They married in 1968 and celebrated their 50th wedding anniversary with family and friends in June 2018. Their two sons, Jeffrey Neil, Jr., and Seth William, were born in Charlottesville and raised between King George and Seaford where they spent summers and holidays with the extended Blanton and Sparrer families—the annual highlight being the Blanton Family Cookout every October. His love of being on the water, camping and hiking yielded many often told funny family stories.
Jeff spent more than 30 years in government service, working for the Department of the Navy at the Naval Surface Warfare Center in Dahlgren, culminating as Head of the Space Systems Applications Branch. His technical and managerial leadership on space based systems was highlighted during his retirement celebration in 2006. Jeff's career achievements were also formally recognized throughout his career as a recipient of the Navy Meritorious Civilian Service and the Defense Mapping Agency Research and Development awards. His achievements were certainly impressive, but Jeff was humble and always preferred to celebrate the accomplishments others, especially those of his sons and grandsons.
He is survived by wife Anne and sons Jeffrey (Aryn), Seth (Elizabeth) and grandsons, Owen (13), Henry (12) and Roger (9).
A funeral service will be held at 2:00 PM on Wednesday, December 21, 2022 in Zion United Methodist Church, Seaford, Va. The family will receive friends one hour prior to the service at the church.
In lieu of flowers, the family requests donations in Jeff's memory be made to St. Jude Children's Research Hospital.
Arrangements by Amory Funeral Home, Grafton, Va.