Dr. Gregorio R. de los Santos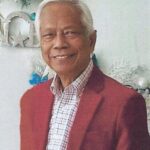 Yorktown, Va. – Dr. Gregorio R. de los Santos, 88, passed away on December 22, 2021. His loss is especially grieved by his wife of 54 years, Barbara, and by innumerable persons that Dr. Greg, as he was known, touched throughout his life and career.
Dr. Greg was born to Sofie and Lucas de los Santos on March 12, 1933. He graduated from the University of Santo Thomas Medical School in Manila, Philippines in 1960 and moved to Cleveland, Ohio where he served his residency in General Surgery at the Huron Road Hospital.
After completing his residency, Dr. Greg spent 36 years caring for veterans as a General Surgeon at the Hampton Roads VA hospital, where he was one of the founders of the Female Clinic. He was beloved and respected by patients and colleagues for his dedication to both medicine and the veterans whom he served and was voted the Best Community Physician by the residents of the Eastern Virginia Medical School.
Over the years, Dr. Greg gained a great many friends in the Tidewater area. Those he met were struck by his gentle demeanor and sense of humor. Everyone who came to know him grew to love him for his humbleness, compassion and generosity, and all join the family in celebrating his life and mourning his loss.
He is survived by his wife, and three siblings: Felix de los Santos (Lourdes), Nestor de los Santos (Digna) and Maria Flor Salanguit, all of Edmonton, Canada, as well as many nieces and nephews.
Services to celebrate his life will be conducted by Pastor David Price at Grafton Baptist Church on December 27, 2021 at 1:30PM. Visitation will be held beginning 12:30PM prior to the service.
In lieu of flowers, donations may be made to Grafton Baptist Church, 5440 George Washington Memorial Hwy, Yorktown, VA 23692. Arrangements by Amory Funeral Home, Grafton, Va.