Dr. Forrest Ronald Schaeffer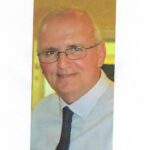 Yorktown, Va. – Dr. Forrest Ronald Schaeffer passed away at home on July 6, 2022. He was born in Allentown, Pennsylvania to the late Forrest L. and Eleanor (Kitty) Breidinger Schaeffer on April 23, 1951.
He graduated from Dieruff High school in 1969 and The University of Pittsburgh in 1973. He then completed grad-school at the Pennsylvania College of Optometry in Philadelphia.
Dr. Schaeffer initially practiced in Susquehanna, Hummels Wharf and Altoona in Pennsylvania. He then opened offices in Hampton, Newport News, Virginia Beach and Williamsburg in Virginia, as well as Salisbury and Ocean City, Maryland.
He loved vacationing with family and friends and delighted in sharing stories of their adventures.
He was married to the former Janice Camp for 47 years. He is survived by daughter Nicole Noelle (James) Salgado, grandchildren, Maddox Ainsley, Miles Forrest and bonus grandson, Ethan. He is also survived by sisters Judith (John) Condravy and Donna Hertzog, as well as many special nieces and nephews. He enjoyed volunteering as a baseball/softball coach for York County and ASA softball. A celebration of life will be held at a future date in Allentown, Pennsylvania. Contributions in his name may be made to the American Cancer Society. Arrangements are handled by Amory Funeral Home in Yorktown, Virginia and Bachman, Kulik & Reinsmith Funeral Homes, P.C. in Allentown, Pennsylvania.