Dorothy Lankford Jarrett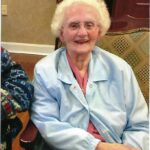 Yorktown, Va. – Dorothy Lankford Jarrett, 87, passed away on Sunday October 16, 2022. Dorothy was a native of Smithfield and graduated from Smithfield High School and a Yorktown resident since 1972. She was a member of Faith Baptist Church.
She was a preceded in death by her husband Charles D. Jarrett her parents Edna Virginia Dixon and Seth Lankford, Jr. her sisters, Eunice Darnell and Betty Brittingham and her brothers, George, Jasper, Otis and AC Lankford and a son David W. Griffin. She is survived by her daughter, Virginia G. Major and her husband Marvin B. Major and step children, Kenneth Jarrett, Dennis Jarrett and Michelle Davis also survived by her 9 grandchildren and 15 great grandchildren.
The family will receive friends on Friday October 21, from 6 to 7:30 PM in Amory Funeral Home. A graveside service will be held at 11:00 AM on Saturday, October 22, in Peninsula Memorial Park. Memorials may be made to Faith Baptist Church, 100 Blackburn Lane, Hampton, Va. 23666.