Dorothy Joy Hooper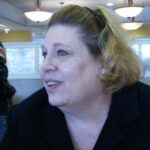 Yorktown, Va. – Dorothy Joy Hooper, known to all as Joy, passed away peacefully on March 11, 2020. She was born in 1950 to Robert and Evelyn Burke (Davies) in Portsmouth, VA. She was the oldest of 5 children, and because of her nurturing soul, was a second mom to her brothers and sisters. She continued to live her life in the service of others. Joy met and married Ronald Hooper in 1978, and they had 3 children together. They have an unconditional love that was an example how to put the other first and serve together. Joy devoted herself to her family. She made sure that all felt love and that they were accepted for who they were. She went out of her way to make sure that those around her had everything they needed. She was an excellent cook. Her spaghetti, lasagna, chili, and meatloaf were full of the love she had for those she cooked. Joy retired from Newport News Schools as a Cafeteria Manager at Warwick High School. She loved her job, especially greeting students as they came through the cafeteria. Joy loved children. She spent many years as a youth leader and started a camp through her church, Community of Christ. Joy went to church every Sunday that she could, but more importantly, lived the life of compassion and care. Joy had the gift of a gorgeous singing voice and used her love of music to minister to others. She was loved by all who met her because of her peaceful soul. She was so beautiful on the inside and out. As her mom said, she had to go by the name Joy because that is what she was, a joy.
Joy was preceded in death by both her parents and her brother Robert Burke III. She is survived by her husband, Ronald Hooper, daughters, Aimee Hooper, Mandy Collier (Harvey), and Abby Smith (Michael), grandchildren, Alyssa Hooper, Harvey Mike Collier, Samuel Smith, Ronald Collier, Cady Smith, Alex Smith, and Laura Smith, and great-grandson Mikai Banks. She also survived by siblings Robin Higgins, David Burke, and Lori Jernigan and many nieces and nephews.
A Service of Remembrance will be held on Saturday, June 27, 2020 at 1:00 PM at the Hampton Branch of Community of Christ, 370 Wythe Creek RD, Poquoson, Virginia, In lieu of flowers, the family asks that donations be made to Outreach International, a charity that Joy held dear to her heart.