Dorothy (Dottie) Talmadge Sparrow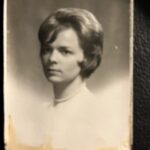 Yorktown – Dorothy (Dottie) Talmadge Sparrow, 80, whose ancestors date back to the Revolutionary War with the Sparrow name appearing on landmarks and facilities, died September 3 of natural causes in Newport News, Virginia.
Long-time Yorktown resident and active local volunteer, she previously lived in New York and North Carolina. Ms. Sparrow was born March 7, 1943 in Baltimore to the late Margaret Willis Sparrow and C. Edward Sparrow, Jr. and graduated from University of Baltimore. Granddaughter of C. Edward Sparrow Sr., former Baltimore Sun sports editor in 1930s and cousin of the late NBC News courtroom artist Betty Wells., Ms. Sparrow's own journalism career dates back to 1960s and 1970s with White Plains (NY) Reporter Dispatch (now The Journal News), interviewing celebrities like Helen Hayes and Joan Crawford. Following a journalism career in New York and North Carolina, she spent 47 years at multinational firm Crawford & Company, receiving its prestigious U.S. Virginia Crawford Award for excellence in service to the organization and community presented by Crawford President, and retired in 2021. Ms. Sparrow was a well-known volunteer in every community she lived in, including with USO, DAR in honor of Revolutionary War ancestor Mr. Mantz, Hugenot Society Vice President as related to ancestor Nicolas de la Fontaine, Williamsburg Farmers Market, The Shipleys of Maryland related to Adam Shipley who came to Annapolis in 1668, Genealogy Societies and more. With her father a World War II Navy Lieutenant Commander and many relatives and friends serving in the military, she was a dedicated supporter of all-things military—volunteering with events and causes and taught English as a Second Language to military spouses. Gifted athlete, she excelled at tennis and bowling, was an avid bridge player with Yorktown and Newport News bridge groups. She is survived by her sister, Constance (Connie) Sparrow (Julian Fink) of Maryland, many cousins and scores of friends who Ms. Sparrow dedicated much of her life to. Dottie will be enormously missed by all who knew and loved her. Viewing will be held at Amory Funeral Home, 410 Grafton Drive in Yorktown on Friday, September 9 from 6-8pm. In lieu of flowers, family requests donations be made in her name to University of Baltimore Foundation or a military-related charity.