Dorothy "Dot" Lee Williams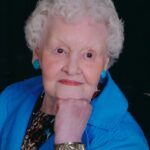 Newport News, VA – Dorothy "Dot" Lee Williams, 92, passed away on Sunday, July 24, 2022.
Dorothy was born October 28, 1929, in Staunton, Virginia, the eldest child of Rodney E. and Fairye C. Shiflett. Dot graduated from Robert E. Lee High School in Staunton. In June 1952 she married Vernon L. Williams of Salida, Colorado, her husband of 43 years. Dot was a former resident of Virginia Beach and member of
Wycliffe Presbyterian Church. She retired from the banking industry after many years of service. In 2014 she moved to the peninsula to be closer to family. Dot's interests included her numerous pet dogs, food and cooking, playing cards, bible
study, and visiting with friends. Family and church were central to her life.
Dot was preceded in death by her husband, her brother, Rodney E. Shiflett Jr., and her daughter, Sherrill L. Williams Via. She is survived by her son, Stephen and his wife, Susan; her son-in-law, Mark Via, her sister-in-law, Patricia E. Shiflett and
nephews William, Robert, James, Terry, and Tracy Shiflett.
A memorial service will be held at 2:00 pm, August 13, at The Chesapeake Retirement Community in the Chesapeake Room. The family will receive friends from 6-8 PM on Friday, August 12, 2022, at Amory Funeral Home, Grafton, Virginia. Interment will be at Arlington National Cemetery, with her husband, at a later date.