Doris York Dean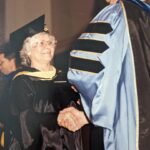 Newport News, Va. – Doris York Dean passed away on December 8, 2021. Doris was born in Detroit, Michigan on October 14, 1934. She graduated from Michigan State University in 1956 with a Bachelors in Home Economics and Kent State University in 1986 with a Masters in Library Science. Doris was a Home Economics teacher who cared deeply about her students. She later worked at the Massillon Public Library where her favorite duties were Story Hour and Craft Time. She lived in Massillon, Ohio from 1956 to 2017, when she moved to Virginia to be near family. Doris was a member of Perry Christian Church when her family was young and a member of First Baptist Church later in life.
Doris loved travelling. She enjoyed weekend getaways to Lake Erie and fall foliage and dinner theater trips to Amish country with her husband Bill. They travelled to Europe, Panama, and Hawaii. She took bus tours all over America and Canada and even a trip to Alaska. She especially enjoyed her adventure in Australia and New Zealand.
Doris's favorite hobby was square dancing and making matching outfits for special Square Dance events. Doris designed and sewed her daughter's wedding dress, hand sewing each embellishment, as well as special occasion dresses and Halloween costumes.
Doris's artistic endeavors continued after her move to the Hidenwood Retirement Community in 2017 where she discovered a talent for watercolor painting. Her grandchildren cherish the paintings they chose to remember her.
Doris was preceded in death by her husband of 50 years, William Dean, her parents, and brother Fred Allen York, III.
She is survived by her two sons Roger Dean (Jessie) and Allen Dean, and her daughter Gail Asher (Lowell); and her grandchildren William Dean, Raphael Dean, Janelle and her husband Kris, Katrina and her husband Ian, and Timothy Asher, and two great grandchildren, Raelyn and Micah.
There will be a private memorial service held at a later date.