Doris Stacey Washer Flockhart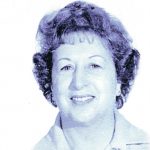 Doris Flockhart a native of Boxford, Suffolk, England passed away on Tuesday, October 23, 2018.at the age of 98. She was the youngest daughter of the late George and Agnes Stacey. She was educated in England at Sudbury High School for Girls, matriculating for Cambridge University. However due to the outbreak of WWII, she postponed going to college and joined the British Civil Service instead. Her job was to assist in administering the extensive food rationing program.
In 1947 she came to Watertown, NY to Marry her fiancé, MSGT Mark Washer, USAF whom
she had met in England. After becoming an American Citizen, Doris went to work for the US Civil Service at various bases where her husband was stationed in the States and overseas. In 1966 she and her husband returned to Langley AFB to retire. They settled in Hampton, Va. where sadly Mark Washer died in 1967. In 1973 Doris married CMSGT Mark Flockhart. At this time she was working for the purchasing and contracting Office at Langley AFB as a contract Administrator, retiring in 1980. She and her husband thoroughly enjoyed their long retirement together, They both loved to travel going on a dozen cruises and taking many road trips. She also enjoyed playing bridge at the senior center in Grafton, and entertaining her many friends and relatives in her home. She will be sorely missed by her husband and friends.
Doris is survived by her husband Mark and stepson Charles Flockhart (Sallie) of Del Rio, TN and 3 grandchildren, 7 great-grandchildren. She is also survived by several nephews and their families in England, plus a niece and her family in Canada. She was preceded in death by her parents, four sisters, and one brother and her first husband as well a step son Mark Flockhart and his wife Pauline.
A funeral service will be held on Sunday, October 28, 2018 at 1:00 PM in Amory Funeral Home, Grafton, Virginia. The family will receive friends following the service. Interment will be in Arlington National Cemetery at a later date.