Doris Ann Wilson Flory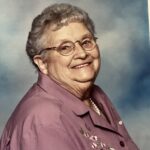 Yorktown – Doris Ann "Wilson" Flory, 85 passed away Tuesday, Jan 10, 2023 in Pflugerville, TX where she had lived for past 10 ½ years with her daughter, Shirley and her husband, Bryan. Doris was born on the Kentucky Farm in York County, Virginia…she lived in York county prior to moving to TX
Doris was one of the kindest and most giving souls that ever walked this earth. Doris was a beloved wife, she was a wonderful Mother and grandma, sister, aunt and friend, She nurtured each of us with her warm smile and her giving spirit. She was a caretaker to many family members.
Doris went to York High School. She was a member of Hornsbyville Baptist Church. She always loved spending time with all of her family and friends. She loved going and listening to music, especially blue grass music, and gardening, cooking She enjoyed playing cards and doing many different arts and crafts. She was most known for her cooking and baking.
Preceded in death by her parents Annie Elizabeth "Burcher" Wilson, and Charles Palmer Wilson, husband, Gordon Raymond Flory, Sr., son Gordon "Gordy" Raymond Flory , Jr., brother Charles Edward Wilson and sister, Pearl Wilson Thomas. She is survived by her daughter Shirley "Flory" Rowland and her Husband Bryan and 2 sisters Fran Berry and Bettie Gonyea, husband Tim; Grandson Jerrad Campbell wife Brandy, great grandson Sebastian and Granddaughter Brianna Vaught, Husband Evan, Great grandchildren Autumn, Novalee, Gabrial, Ava, Tucker and many nieces and nephews and Special long term Friend, Barbara Carter.
A funeral will be held on at 2:00 PM on Tuesday, January 17, 2022 in Amory Funeral Home Chapel. The family will receive friends one hour prior to the service. Burial will following Peninsula Memorial Park.