Donnie Leon Tyndall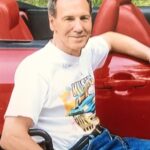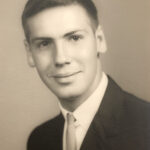 Newport News, Va. – Donnie Leon Tyndall passed away on Saturday, January 23, 2021. He was 75. A former resident of The Hidenwood retirement community, where he had many friends, he died in the loving care of the nurses, chaplain and staff at St. Francis Nursing Center, who provided excellent, loving care.
Born to Annie Ruth Harris of Farmville, NC and Leon Tyndall of Lenoir, NC, he moved at a young age to Newport News. At Newport News High School, Donnie was a member of the Sigma Phi Delta fraternity and played number 35 on the football team. He was a devoted Typhoon. He went on to serve in the Newport News Fire Department as a paramedic, until a motorcycle accident left him a paraplegic, an event that would eventually illustrate his incredible resilience.
After a lengthy recovery, he graduated from Christopher Newport College and began a career in accounting at several government agencies, including the US Naval Weapons Station in Yorktown, the Naval Research Laboratory in Washington, DC, and the Office of Naval Research in Ballston, VA. He also played wheelchair basketball, restored antique automobiles, was an avid collector of vintage goods, and took up photography, a passion that would last late into his life.
Donnie was preceded in death by his deeply devoted mother Ruth, his father Leon, his beloved stepfather Bennie Scott, who raised him, and his later-in-life stepfather J.T. Dunn. He is survived by his eldest son Scott Tyndall (Honey) of Yorktown, who principally took care of him in his final years, and his son, Mark Tyndall (Josh Ghaffari) of Washington, DC, as well as his beloved grandchildren Christina Tyndall Johnson (David), Michael Tyndall, and Jennifer Tyndall. He is also survived by a half sister, Janet Jenkins, and a half brother, Randall Tyndall. His former sister-in-law, Michelle Kellam, was instrumental in helping Donnie transition into assisted living, as he battled Alzheimer's disease.
In light of the current pandemic restrictions, the family intends to hold a remembrance of his life over the summer months. In lieu of flowers or gifts, the family would welcome donations to the Alzheimer's Association.