Donna M. Young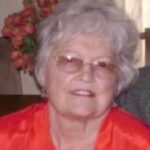 Mrs. Donna M. Young, age 87, passed away on Sunday, June 11th, 2023.
Mrs. Young was born in Bluefield, WV. on September 17, 1935. She had been a resident of Hampton and Yorktown for 62 years. Donna graduated from Beaver High School in Bluefield, WV. and moved to the Peninsula with her family in 1961. She received her PHTC (Pushing Husband Through College) Plaque from Virginia Tech in 1960.
She was active in civic affairs both in Hampton and Yorktown. While living in Hampton, she was a member of the Hampton Garden Club, worked with the cub scouts in Hampton, active in the Hampton Schools PTA and an active volunteer in the schools. While living in Yorktown, she was a volunteer at Mary Immaculate Hospital in Newport News and served on the alter committee of the Crooks Memorial Church in Yorktown. Donna was also a member of the Yorktown Woman's Club and studied Psychology at Thomas Nelson College. At the time of her death, she was an active member of the Crooks Memorial United Methodist Church of Yorktown, VA. She enjoyed arts and crafts, bridge, fishing, shopping and traveling and eating out with her friends. She also loved feeding her hummingbirds and working in her flower beds. She loved springtime most of all. She was a devoted mother and grandmother to her two sons, five grandchildren. two step grandchildren, and two great granddaughters whom she loved so very, very much.
Donna was preceded in death by her loving and devoted husband of 69 years, Dr. Clarence (Buddy) P. Young Jr. of Yorktown. Her parents, Willie Kyle and Mary Scott Eaton Bourne, two brothers, Douglas E. Bourne, a twin brother, Donald Lee Bourne and one sister, Virginia Bourne Bailey. She is survived by her two sons, Bruce, his wife Elizabeth Young and their children Madison and Ryan of Charlotte, N.C., and son Stephen and his wife Lea Ann Young, grandson Brandon and his wife Ashley Young of Wallops Island, VA and grandson Garrett and his wife Audrey Young of Grand Rapids, MI., and a great grandson, Landon Young, two stepchildren Kevin and Collin of Yorktown, VA and granddaughter Kathy and her husband Jeremy Patterson and two great granddaughters Katlyn and Matty of Marietta, Ohio.
A service to celebrate her life will be held at the Amory Funeral Home Chapel on Thursday, June 22, 2023 at 1:30 PM.