Donna Jean Gilroy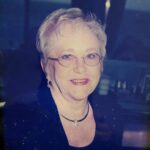 Yorktown – Donna Jean Gilroy, 87, passed away December 10, 2022 to be with the Lord. Born in Harrisonburg, VA, Donna attended Elkton High School. Donna then went to Radford University but decided to transfer to Syracuse University where she received her B.S. in Business Administration.
Donna retired from TRW in 1988 and moved to Yorktown with her husband Thomas Gilroy whom she married in 1959. Donna became very active in the community. She joined the U.S. Coast Guard Auxiliary in 1989 where she volunteered over 53,000 hours of service. She recently was awarded the U.S. Coast Guard Fifth District Lifetime Achievement award. Donna also volunteered for the Gallery at York Hall, the Watermen's Museum, and for York County Registrar as a poll worker. Donna was a member of the Seaford Yacht Club, the Yorktown Women's Club, and the York County Senior Center Board where she held various positions supporting the groups. She was an avid golfer and bowler. She also loved going on cruises, playing bridge, and watching sports. She thoroughly enjoyed life and will be greatly missed by many longtime friends.
She is preceded in death by her parents Donald and Iva McKiniry, and her husband Thomas Gilroy. A service celebrating her life will be held at the Seaford Yacht Club on Sunday, January 15, 2023 at 2:00 p.m. In lieu of flowers, donations may be made to the Peninsula SPCA, Coast Guard Mutual Assistance, or your favorite charity.