Donald "Donnie" Eugene Shields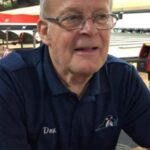 Donald (Donnie) Eugene Shields entered the arms of his heavenly Father unexpectedly Sunday morning after a catastrophic heart failure.
Donnie grew up in York County, where he attended Zion United Methodist Church and graduated from York High School in 1962. He graduated from Newport News Shipbuilding and Dry Dock Company in 1965 and worked in the shipyard as a draftsman. In the years following, he also established the popular local restaurant "Brothers Two Drive-In" along with his brother Dennis.
Donnie was gifted in design and build and established himself as a custom home builder known as "Don Shields Builder". His business was quite successful, and he blessed many families with beautiful homes in York County and Williamsburg. He also had a knack for repairing just about any system…. from plumbing to electrical to mechanical. Donnie was quick to jump at any opportunity to help a friend or family member with a needed home repair. In recent years he particularly enjoyed repairing and "flipping" lawn mowers with his grandson Trevor. His grandson Alex inherited mechanical aptitude and accompanied him on many repair & installation jobs. Donnie never knew a stranger and always carried an upbeat, positive attitude no matter how challenging the circumstances.
Donnie also possessed a great talent for bowling, enjoying the sport so much that he owned a bowling alley for several years. He made several trips to Las Vegas to compete in the National Amateur Bowling (NABI) Tournaments. One of his proudest accomplishments was winning the 1995 NABI National Championship with a grand prize of $40,000.
Donnie was preceded in death by his parents, Coleman and Elizabeth (Bet) Shields, and his brother Dennis Shields, of Yorktown. He is survived by his sister Betty Gayle; sister-in-law Jan; nieces Denise (Jim), Wendy and Melanie, nephew Patrick, grandsons Trevor and Alex and their parents Renee´ and Dave.
A visitation will be held on Wednesday, October 6, from 6:00-8:00 p.m. at Amory Funeral Home, 410 Grafton Dr., Yorktown VA. The funeral service will be held on Thursday, October 7 at 1:30 p.m. at Zion United Methodist Church, 2019 Seaford Rd., Seaford VA. Burial will follow in Peninsula Memorial Park, Newport News, VA.