Deborah Marlene Johnson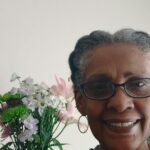 Deborah Marlene Johnson age 71. Passed away on Monday November 1, 2021.Deborah was born 3/7/1950 in Brooklyn NY to Edward & Helen Nesbit (deceased). As a child she got to travel the world because her father served in the US Army. In her late teens she gave birth to her only son Donta.
Deborah retired in Property Management, in the Oakland , CA area. This is where she met the love of her life James Johnson. Once she retired her and her then fiancé James moved to Newport News. On 5/9/1998 James and Deborah were married. They made their home in Yorktown, VA.
Deborah loved painting & art work, she enjoyed cooking and love to sing & listen to music.
She is survived by her husband James Johnson and her son Donta Nesbit, grandchildren, Donta Nesbit and Josetay Nesbit her sisters DeTessa Nesbit and Diana L. Nesbit (Deceased), nephews: Edward Nesbit & Mr Prezident and a host of Cousins best friends: Beverly Black, Loretta Reese & Barbara Goodie
Services will be private.