Deborah Jean Scaturico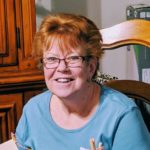 Yorktown, Va.- Deborah Jean Scaturico, 65, passed away on Monday Morning June 3, 2019. Deborah was a native and long time resident of Queens, New York before moving to Virginia 2016 and living in Yorktown since November 2018. She retired from New York State in 2014 after 23 years of service.
She is survived by her husband of 46 years Nicholas W. Scaturico and 2 sons, Peter Scaturico (Cindy) of Seaford and Brian Scaturico (Daniella) of New Jersey; 2 sisters, Donna Tincher (Mike) and Linda Sammons (Scott); 3 granddaughters, Chelsea, Gracey and Sophia and 2 great grandchildren, Stella and Maxwell.
The family will receive friends on Thursday from 6-8 PM and Friday from 2-4 PM in Amory Funeral Home. A funeral service will be held at 6:00 PM on Saturday, June 8, 2019 in Amory Funeral Home Chapel. Interment will be private in Peninsula Memorial Park, Newport News, VA.
Memorials may be made to the Idiopathic Pulmonary Fibrosis Foundation, 21301 S. Tamiami Trail Ste 320 PMB 226, Estero, FL. 33928.