David Bruce "Jack" Jackson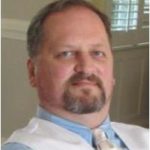 It is with great sadness we announce the passing of David Bruce "Jack" Jackson. Bruce, age 56, passed away peacefully and surrounded by family and loved ones on March 25, 2019, after a heroic battle with cancer. Originally born in Tennessee, Bruce's family moved to Poquoson, VA at an early age where he was raised and spent most of his childhood. He was a 1980 graduate of Poquoson High School. He worked for 35 years at Newport News Shipbuilding as a machinist. He raised a family in Newport News and was a loving and dedicated father to three children. Despite working frequent overtime to provide for his family, he always made time to spend with his children, riding bikes and going to parks, playing with and caring for them. He was also a long-time member of Parkview Baptist Church.
Bruce was an inspiration to all those who knew him. He repeatedly beat the odds and pulled through when doctors told him he would not. After a grand mal seizure, brain infection, and two brain surgeries he wasn't supposed to survive; he not only pulled through, but worked hard to be able to return to his job at the shipyard, instead of going on disability. He was a miracle to anyone who witnessed him perform the Sermon on the Mount, as he recited and passionately preached the three chapters word for word when doctors had said he wouldn't be able to take care of himself or do anything for himself. He loved to memorize new Scriptures and recite them at Sunday morning services at Parkview, and performed the Sermon on the Mount many times in several different locations. After his cancer diagnosis, he was in and out of the hospital and repeatedly told he wouldn't leave but never gave up fighting. Even on his last trip to the hospital, he wanted clothes brought for when he went home and never gave up.
Bruce is survived by his three children, Victoria Lynn, Rachel Christine, and Timothy Joseph, his mother Mary Jackson, two sisters Jenny Dunaway (Michael) and Karen Jackson, and his brother Lance Jackson (Pamela Forrest). He is also survived by nephews Zachary Christman, Seth Christman, Jake Christman, and Richard Jackson, Jr. He is predeceased by his father, Howard C. Jackson.
A memorial service will be held at Parkview Baptist Church in Newport News on Thursday, March 28 at 2:00 pm, with a reception following. In lieu of flowers, donations may be made to Fight Colorectal Cancer (https://fightcolorectalcancer.org/)..