Darleen Fletcher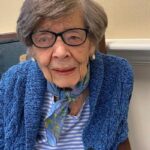 Yorktown, Va. – Darleen Fletcher after 87 years on earth made her permanent move to heaven on Jan 9th. She is preceded in death by her husband John Fletcher, daughters Suzanne Mills, Jane Kenyon, and a brother Donald Whitaker. She is survived by her daughter Barbara Kephart (Brad), her four brothers, Richard, Michael, Robert, and John Whitaker (their spouses), five grandchildren, John Huey (Stevann), Zeke Gardels (Amy), Rachel Naab (Troy), William Stephens (Katie), Jake Kephart (Taylor), son-in-law Denny Kenyon and seven great grandchildren.
Her husband's Army career moved the family to Council Bluffs, Iowa 54 years ago. There she stayed for 47 years until moving to Yorktown, Virginia 7 years ago to live with her daughter's family.
She loved God, Jesus, and the Holy Spirit. She was a faithfully, active member of Epworth United Methodist Church in Council Bluffs. Later on she became a pastor to Randolph and Tabor United Methodist Churches in Iowa.
One of her favorite things to do was read, especially murder mysteries. Give her an Agatha Christie book, an apple, fine cheese, and peanuts and she was in her happy place.
She also loved to play board games, cards, and do jigsaw puzzles with the family. There were many good times and lots of laughs at her house, plenty of food, too!
She will be deeply missed but is lovingly forever with Jesus, what could be more perfect?
Thank you to Morningside of Newport News for caring and loving on her these last three years. Also to her loving Home Helper aids.
Darleen will be cremated and a celebration of life will be at a later date.
If you'd like to give to her memorial, it is: Epworth United Methodist Church, 2447 Ave. B, Council Bluffs, Iowa 51501. Arrangements by Amory Funeral Home, Grafton, VA.