Crystal Elizabeth West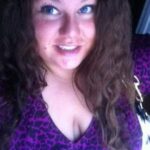 Hayes, Va. – Crystal Elizabeth West, 30, passed away Friday, January 1, 2021.
Crystal was a lifelong resident of Hayes.
She was preceded in death by the love of her life Phillip Eugene Brown and is survived by her parents William and Pinkie West and her brothers Billy Jr. and Jeffrey Scott West.
A graveside service will be private. The family will receive friends on Tuesday, January 5th from 6:00 to 7:00pm in Amory Funeral Home. Due to the Covid19 virus everyone will be required to wear a mask and practice social distancing.