Cora Owens Thomas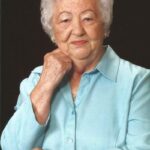 Cora Owens Thomas, 92, of Yorktown, VA passed away peacefully at her daughter's home on Tuesday, March 9, 2021 after a courageous battle with brain cancer. She was a lifelong resident of Dandy, VA and a member of Dandy Baptist Church. She loved her community and enjoyed tending to her flowers and yard.
Cora was preceded in death by her parents, William and Emma Owens; her husband, Calvert Thomas; her brother, Harold Owens; and her daughter, Shirley Baker.
She is survived by her daughters, Barbara Thomas of Newport News and Lois Parker (Richard) of Yorktown, VA; her brother, Robert Owens (Betty) of Newport News, VA; and a sister-in-law, Elizabeth Owens of Barhamsville, VA. She is also survived by four grandchildren, Amy, Brian, Kristi and Lisa; 6 great-grandchildren; and many nieces and nephews.
The family would like to thank Riverside Hospice for their love and compassion, as well as her many special friends, neighbors and relatives for all their prayers, thoughtful cards and phone calls.
Service of remembrance will be a private service of immediate family only. The family requests those who wish to express sympathy to consider making a donation to their favorite charity in Cora's name. Arrangements by Amory Funeral Home, Grafton, Virginia.