Connie Elizabeth Richards Jenkins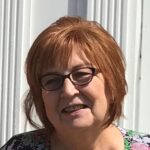 Newport News – Connie Elizabeth Richards Jenkins, 68, passed away on May 11, 2023 with her loving partner in life Bob Evans by her side. Ultimately losing the fight with brain cancer, she exemplified strength and tenacity while maintaining zest and purpose in her life as an inspiration to all. She overcame multiple battles with cancer, first diagnosed 30 years ago, and as a survivor went skydiving to experience a feeling that most will never know. Her legacy is the true meaning of "Live, Laugh, Love" throughout the good times and in the bad.
Connie was born in Roanoke, VA on July 21, 1954 to (pre-deceased by) George Greer Richards Jr. and Docia Cordelia Jones Richards. A native of southwest VA, her family moved to Newport News in 1960. The middle child of five, blessed by love and family, there she lived out her life as a headstrong, confident woman. She graduated from Denbigh HS and ECPI. She enjoyed numerous career adventures including photography, insurance underwriter and representative, computer repair specialist/manager contracted by NASA, and entrepreneur of Connie's Gift Shop in Hilton Village. Her personal business highlighted her exceptional artistic ability, making family heirlooms not just for our family but for her customers as well. She was skilled in sewing, cross-stitching, painting, and jewelry making to name a few. Her hand-crafted jewelry won first place at the Newport News Park Festival in 2017. She was the proud mother of three and will be sorely missed by all.
She is survived by: her partner – Bob Evans; her children – Bonnie Fitz, Kimberly West (Andres), Joseph Jenkins Jr. (Jessica); her grandchildren – Isabella West, Zackary Fitz, T.J. Pratt, Frankie Pratt, Joseph Jenkins III; her siblings – Anna R Medlin (Tracy), George Richards III (Judy), Joanie Sadler, David Richards (Penny); and her nieces and nephews – Ali Coover (Ray), Elijah Lackey (Star), Georgia Brudos (Chris), Greer Richards (Margaret), Jessica Richards, Jacob Richards, Leah Richards, Ginny Richards, and Hannah Richards.
The family would also like to recognize her friends at Cozzy's Comedy Club, who became extended family through the special bonds they shared with Connie. Special thanks to the VCU medical staff for their exceptional care and compassion. In lieu of flowers, please consider a donation to St. Jude's hospital to aid in the battle against cancer.
There will be a Celebration of Life at Cozzy's Comedy Club on Saturday, May 20 at 1pm in her honor. There will also be a burial service at St. James Lutheran Church in Chilhowie, VA with the date and time to be announced later.