Connie Ann Wilson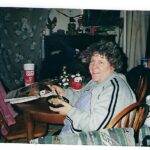 Hampton, Va. – Connie Ann Wilson, 70, passed away on Thursday, June 10, 2021. Connie was born Big Island and a former resident of Lynchburg, Virginia and a peninsula resident for many years.
She was preceded in death by her parents Houston Stanley Wilson, Sr. and Augusta Lucille Tolley Wilson and brothers Houston Stanley Wilson, Jr., John David Wilson, Earl Dean Wilson and sister Virginia Elizabeth Branham and is survived by her sons, Ronald Preston Wilson, Samuel Eugene Wilson, David Lee Wilson and Preston Sthaley and her brothers Clancy Darrel Wilson and Thomas Garland Wilson and a sister Carrie Dean Wilson and 11 grandchildren.
A funeral service will be held at 3:00 PM on Saturday, June 19, 2021 in Amory Funeral Home Chapel. Interment will be private at a later date.