CMSGT Mark Flockhart, Ret. USAF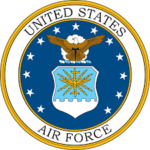 Yorktown, Va. – CMSGT Mark Flockhart, USAF Ret. A veteran of World War II, Korea and Vietnam. A native of Pittsburg, Pa. passed away on Thursday, September 2, 2021 at the age of 93.
Son of the late David and Agnes Flockhart. He attended schools in Pennsylvania and Glasgow, Scotland, original home of his parents. He misrepresented his age to the draft board in order to be drafted at 17 years old into the military. He served during the end of WWII, Korea and Vietnam, retiring after 29 years active duty in the Army Air Force and USAF. His service Included time in England, Turkey, Libya, Panama, Vietnam and Thailand. He was awarded the Bronze star, meritorious service medals, commendation medals, plus fifteen other service medals and ribbons. Chief Flockhart was the first wing senior enlisted advisor at Langley AFB. An amateur Radio Operator and Mars Operator while stationed in England, Thailand and in US. Upon retirement he operated cyclotron for William and Mary College, and then worked at NASA Langley receiving 2 commendations for his work on the first space shuttle tiles. He was a Master Mason of over 65 years. As of 2021 he served as a volunteer at the Langley AFB Hospital for over 37 years and received a meritorious certificate from the Chief of the staff of the Air Force. He was an avid golfer. He thoroughly enjoyed his retirement, cruising and taking road trips with his late wife Doris. His hobbies in addition to golf and ham radio were carving ducks, making pens, etc which he donated to various fund raisers.
He was preceded in death by the love of his life, Doris, his wife of 45 years, his son Mark T. Flockhart, a brother Dave and sister Janet. He will be sorely be missed by his family and many friends. He is survived by his son Charles (Sallie), four grandchildren and special granddaughter Jenny Flockhart, great grandchildren and one brother Ian and his family.
A special thanks to my caring neighbors and especially to Janice Deaver who made sure I was taken care of after the passing of my wife.
A funeral service will be held at 4:00 PM Sunday, September 5, 2021 in Amory Funeral Home Chapel. The family will receive friends following the service. Burial will be at a later date in Arlington National Cemetery.
Memorial may be made to Grafton Christian Church, 109 Brick Church Road, Yorktown, Va. 23692.