Claudette Tully King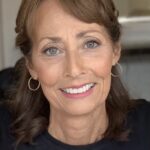 After a stoic three-year battle with cancer that she fought with strength, dignity and grace, Claudette King died peacefully on April 20 at her home in Yorktown, VA. At the time of her passing, she was surrounded by the love of her Lord and Savior, her children Clark, Kyle (Sara), niece Gwen, dear friend Gayle, and her husband Kevin of 34 years. She was 64 years old. Her radiant smile, special presence and beautiful personality will be deeply missed.
Claudette was born on August 23, 1958, in Brooklyn, NY to Neil and Louise Tully. She was loved by all, with a radiant smile that could make most people melt. She always had kind words to say and was a caring, compassionate person, putting the needs of others first and was always available for wise counsel. She cherished her family and friends; never missing a birthday or special event in their lives.
Claudette spent her childhood years living in Southampton, NY, graduating from Southampton High School in 1976. She was a Cheerleader, and she actually did cheer "Kevin, Kevin he's our man" during a football rout where he made it into the game. She was an active participant in Pep Club, Gymnastics and enjoyed acting in the Annual school plays. When she wasn't enjoying bike rides or time on the beach, she could be found with her sisters Alicia and Louise, working weekends at her parents' lobster market in Hampton Bays, NY.
After high school she attended the California State College in California, PA, where she majored in speech pathology and audiology. It is there where she met her third "sister" in life Gayle Drewniak (nee Lockwood). Even when years went by when they didn't see each other, they would still pick up on the same sentence when they reunited. After three years of academic's European travel called her where she spent time travelling through Italy, France, Portugal and Spain. Upon returning to the states, she was the manager of the Lee Moore clothing stores in Southampton and Bridgehampton, NY. Following that she and her parents founded Tully's Harbor Restaurant in Hampton Bays, NY. She worked there for many years until by chance, she reunited with "Kevin, Kevin he's our man" (who waited patiently for her from the age of 15).
After brief courtship, Kevin had the joy of marrying the love of his life on May 20, 1989, at the First Presbyterian Church in Southampton, NY. Upon returning from their honeymoon they moved to Yorktown, VA, and began their new journey of raising a family, meeting new friends, and enjoying all the Tidewater area has to offer. Claudette was a proud stay-at-home Mom raising her two sons along with the rest of the neighborhood children and was honored to have a special relationship with her son's friends Brent Bass and Brian Gorwitz who she treated as her own. She was the backbone to her children's success whether it be in their Faith, School activities, Academics, Cub/Boy Scouts, or Athletics. Her son once wrote to her, "Always nurturing me and placing me on the right path in life is paying off, and it's all thanks to your hard work. With all your care, it's a wonder I ever learned to goof off".
Claudette loved to travel with her husband, family, and friends. There were many memorable beach trips to Cape Hatteras, Block Island and her hometown of Southampton, NY. She and her husband also loved to charter boats and cruise the waters of Newport, RI and Martha's Vineyard and cruise on their boat to many local areas and restaurants on Chesapeake Bay. In winter she loved to snow ski with her family, her favorites were Deer Valley, UT and Sun Valley, ID.
Claudette was active in the Yorkminster Presbyterian Church (YPC) where she attended for thirty-three years, she taught Sunday School and was an active member in the ladies Circle One, which she dearly loved, and was on the Preschool Board of Directors as the Assistant Treasurer. Claudette also had the joy of participating on a Medical Mission trip to Honduras where she made lifelong friends. She was also the main meal preparer for large groups in the church's new Covenant Hall. Whether the meal was for 25 or 225 her recipes, portion control and delivery were par excellence!
The Family would like to thank her wonderful Oncology team of doctors and nurses at The Duke Cancer Center in Durham, NC, special thanks to Tara Herrmann, PA. We would also like to thank her dear friend Karen Spitler, NP who made many lengthy trips, through COVID and all, to help us navigate the trials of treatment and medication, and to be a friend. We also thank our congregation and prayer warriors at YPC for their steadfast love and support.
Claudette was predeceased by her father Neil Tully and is survived by her husband Kevin and their sons Clark of Breckenridge, CO and Kyle and wife Sara of Doylestown, PA. Claudette is also survived by her Mother Louise Andersen Tully of Calverton, NY, sisters Alicia Ferguson (Tom) of Brookfield, VT and Louise (Bill) Koral of Bridgehampton, NY, sister-in-law's Karin Driscoll of Bloomfield, NY, Kathleen King of Southampton, NY, brother-in-law Richard King (Robin) of Southampton, NY, nieces Gwendolyn Diaz (Brett) of Nashville, TN, Ali and Madi Koral of Bridgehampton, NY, Christina Fouser (Mike) of Rochester, NY, Kara Miller (John) of Victor, NY, Julia King of Greenport, NY, nephews Brad King (Nancy) Summit, NJ, Nate Driscoll (Kay), Ashley and Spencer Koral of Bridgehampton, NY along with their families, precious little ones and many close friends.
In lieu of flowers the family suggests the following charities:
The Duke Cancer Center (In memory of Claudette), 300 W. Morgan St., Suite 1200, Durham, NC 27701
The Yorkminster Presbyterian Preschool Scholarship Fund (Claudette endowment), 6218 George Washington Memorial Hwy, Yorktown, Virginia 23692
A lung cancer research center of your choice.
Amory Funeral Home in Yorktown, VA (www.amoryfuneralhome.com) is coordinating arrangements.
Visitation is scheduled at the Yorkminster Presbyterian Church on Friday May 5 from 7-9 PM, and a memorial service will be held on Saturday May 6 at the Yorkminster Presbyterian Church in Yorktown, VA at 1:00 PM. The service will also be simulcast on the YPC website. See www.yorkminsterpc.org for details. The family invites all to attend a celebration reception at the church after the service.
An internment service will be held in Southampton, NY at a future date.