Charlotte Horton Sims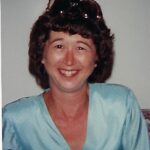 Gloucester, Va. – Charlotte Horton Sims, 83, passed away on Thursday, June 3, 2021. Charlotte was a native of Elizabeth City, North Carolina. She was a peninsula resident since 1945 and living in Gloucester since 1983. She was a graduate of Newport News High School class of 1955.
She was preceded in death by her parents Thelma and Harry Wheeler, Sr. and a brother Wilbert Horton. Charlotte is survived by her husband of 39 years Bruce C. Sims, Jr. and her children, Susan Sims Hsu and B. Coleman Sims, III; sisters, Zonona Woods and Terry Hill (Gary) and brother Harry Wheeler, Jr. (Liz); 6 grandchildren 9 great grandchildren and 4 great-great-grandchildren. She is also survived by 11 nieces and nephews and many special friends from Newport News High School classes 1955 and 1956.
Memorial service will be held on June 13, 2021 at 1:00 PM in Amory Funeral Home Chapel. Interment will be private.
Memorials may be made to the Alzheimer's Association, 225 N. Michigan Ave., Fl. 17, Chicago, IL 60601. Arrangements by Amory Funeral Home, Grafton, Va.