Charlotte Donadio Fernandez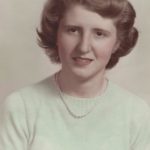 Yorktown, Va. – Charlotte Donadio Fernandez, 87, passed away on Saturday August 24, 2019. Charlotte was a native of Sussex, New Jersey and peninsula resident since 1941 and moved to Yorktown in 1956. She graduated from Hampton High School in 1948 and retired as a secretary in 1996 after 30 years with the civil service.
She was preceded in death by her parents Sullivan and Helen Donadio and her husband George Fernandez. She is survived by her son William (Will) Wilkerson and grandsons Derek and Michael and two brothers, Sully Donadio (Floye) and Don Donadio (Nell).
A funeral service will be held at 2:00 PM on Saturday, August 31, 2019 in Grafton Christian Church. Interment will follow in the church cemetery. The family will receive friends one hour prior to the service. In Lieu of Flowers memorials may be made to Grafton Christian Church, 109 Brick Church Road, Yorktown, Va. 23692 Arrangements are by Amory Funeral Home, Grafton, Va.