Charles Lewis Garrison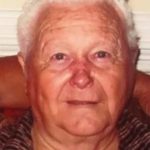 Seaford, Va. – Charles Lewis Garrison, 84, passed away on Sunday, May 26, 2019. Charles was a lifelong resident of Seaford and retired from the C&O Railroad. He was an avid fisherman. He was preceded in death by his sister, Mary Frances Garrison and 2 brothers Walter Scott Garrison, Jr. and Leroy Garrison and is survived by his wife of 65 years Roberta Carolyn Garrison; 2 daughters, Rebecca Denise Wainwright (Robert) and Carmen Michelle Garrison; 2 sons, Charles Lewis Garrison, Jr. (Donna) and Timothy Lewis Garrison. He is also survived by his grandchildren, Emma, Kaci, Hailey, Brooke, Austin, Joshua, Suzanne, Stephen and Daniel and grandson Wyatt
A private graveside service in Parklawn Memorial Park, Hampton. Arrangements are by Amory Funeral Home, Grafton, VA.