Charles B. Kloss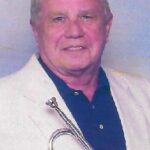 Charles Blakely Savage Kloss, 90, went to be with the Lord on Friday, May 19, 2023 at Golden Years Assisted Living Center in Hampton, VA. He was born in Camden, NJ on March 14, 1933 to Sara Savage Kloss and John Kloss. After graduating from Haddonfield Memorial High School in 1951, he worked at Campbell's Soup Factory before joining the Army in 1953. The end of the Korean War enabled him to be honorably discharged early. He attended the University of Maryland where he met the love of his life and soul mate, Patricia Thomas.
He was preceded in death by his parents, sister, Barbara Davies, and beloved wife of 51 years, Patsy. He is survived and his memory will be cherished by their three daughters, Pamela (Rick Wells) Piazza of Yorktown, VA, Kelly (Steve) Erickson of Jamison PA, and Catherine (Dan) Duregger of Tempe, AZ. He is also survived by five grandchildren, Katie (James) Gildea (Summerville, SC), Emily Piazza (Richmond) and Michael, Kristen (Devon Passman), and Matthew Erickson (Jamison), and great grandson, Asher Gildea. He is also survived by nieces, nephews, and friends.
He and Patsy made homes and lovingly raised their family in Richmond, VA, Stratford, NJ, Bethesda, MD, Tempe, AZ, and most recently in Yorktown, Va. He spent his career in the insurance industry and greatly enjoyed his retirement as "Captain" on the Rhine River boats at Busch Gardens. A devoted husband and father, family always came first. Whether he was teaching photography with Pam at Girl Scouts, having a catch with "the Kel", or leading YMCA Princesses with Catherine, he always made time to be a wonderful dad. He instilled his love of music through all of the concerts and musicals the family attended and even produced his own CD after renewing his love of the trumpet in his retirement. He will be remembered for his sense of humor, his love of the MD Terrapins, and as a loyal, lifelong friend to all who were fortunate enough to know him. Courageous to the end, he was proud to go sky diving at age 80.
The family would like to thank all of the nursing staff and caregivers at Golden Years, especially Lucy, and Harmony Cares Hospice, especially Rachel and Ashley.
A celebration of life service will be conducted by the Rev. Seldon Walker at 2 pm, Sunday, June 25, at Grace Episcopal Church, 111 Church St, Yorktown, VA. The family will receive friends immediately following the service at the church. Dad's favorite colors were yellow and red. Please wear the color that most brings you joy.
Arrangements are by Amory Funeral Home. Interment will be followed at Sandy Spring Monthly Meeting of the Religious Society of Friends Graveyard in Sandy Spring, MD at a later date. In lieu of flowers, donations may be made in his memory to the American Red Cross or a charity of your choice.
The best way to honor our dad would be to have "supper" with your family.