Chantelle Malaysha Scott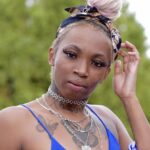 Newport News, Va. – Chantelle Malaysha Scott was born on June 14th, 2001, to Fawn Scott in Fairlea, West Virginia. Chay, as she was affectionately known lived her earlier childhood in the small town of White Sulphur Springs, West Virginia until she was four years old and then moved to Newport News, Virginia. She was a member of New Beech Grove Baptist Church. Chantelle was educated in the Newport News Public School System attending Kiln Creek Elementary, Dozier Middle School, New Horizons, and graduated from Yvonne B. Miller High School. Chantelle was a bold, loving, fierce, talented beautiful soul. She loved cracking jokes, arts and crafts, writing, traveling with her friends, dancing, snacks and running track. Survivors include her mother Fawn Scott; grandmother Barbara Boggs; brother Dayjion Scott; uncle Nicholas Scott; great aunts Sherba, Darlene, and Janet Essex; great uncle Eugene Essex and a host of family and friends. Chantelle was preceded in death by her grandfather Charles Scott; beloved pa-pa Forrest Boggs; great grandmother Syble Essex; and great uncle Donald Essex.
A celebration of life service will be held at 11:00 AM on Wednesday, August 3, 2022 in New Beach Grove Baptist Church, 361 Beechmont Drive, Newport News, VA. A graveside service will be held at 2:00 PM Saturday, August 6, 2022 in West Warm Springs Cemetery, Warm Springs, Va. Arrangements by Amory Funeral Home, Grafton, VA.