Catherine Phillip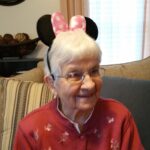 Catherine Tomala Phillip, 90, of Colonial Harbor in Yorktown, VA, formerly of Torrington, CT, and Danville, PA, passed away on Monday, December 20, 2021. She was surrounded by her family who will miss her very much.
Catherine was a multi-talented woman. She single-handedly set up the library at our elementary school, the Sacred Heart School, in Torrington. She was a very skilled seamstress, and for many years hand-made dresses for her young daughters for all occasions. Her talents at baking were of professional level. Her custard-filled cream puffs and eclairs were a piece of heaven. When she made the yeast-doughnuts, her daughters would sneak them out of the pantry as soon as she put them in her white enamel pot to cool (usually incurring her reprimand: "Leave them alone yet!"). All her desserts were made from scratch, including her pie crusts, and that amazing lemon meringue pie filling and egg-white topping. She also taught her daughters how to make several Slovak specialties, including kolach (loaves of bread stuffed with sweet walnut filling), pagach (potato- or cabbage-stuffed flat bread), and our favorite – home-made potato-and-cheddar-cheese-stuffed pierogies. It was our job to use the big soda glass to cut circles from the rolled-out dough, drop spoonfuls of filling on them, and press them closed so Mom could then boil them and serve them with browned butter and sauteed onions. And Christmas was not complete without her Christmas-tree press cookies, using her silver Mirro cookie press. For years we lived with one car and so summer days were often walks downtown with Mom to do shopping and on occasion, have lunch in Woolworth's where we would split turkey or BLT club sandwiches. In her later years she oil painted and did beautiful pencil sketches, was very active in the craft club at the Meadows retirement community in Danville, PA, and also served as a volunteer at the Mary Immaculate Hospital in Newport News, VA. She also loved crossword puzzles and was a determined "word-search" fanatic.
Catherine was born in Torrington, CT in 1931, the daughter of John and Mary (Gaura) Tomala. She was pre-deceased by her husband of 49 years, Richard Marshall Phillip, a son, John Joseph Phillip, her parents, her older sister – a nun, Sister Mary Luke SSCM, and two older brothers – Andrew Tomala of Torrington, and Father John C. Tomala, CSSp, a missionary.
She is survived by her three daughters, Theresa Jarrell (Billy) of Seaford, VA – who was her devoted primary caregiver for many years; Bernice Reznick of Ashland, MA; and Debra Bailey (Ed) of Durham, NC. She had 7 grandchildren: Scott Reznick (Lynne), Sara Borghesi (Marc), and Stephen Reznick (Emily), Melissa Wise (Morgan), Samantha Locke, Amanda Locke, and Matthew Bailey. She also had 4 great-grandchildren: Dino and Frankie Borghesi, and Jayden and Payton Wise. She is also survived by many nieces and nephews, including Andrienne Longobucco (Joe), Patti Mascetti (Billy), John Phillip (Peggy), Caroline Miller, and Rob Phillip (Karen).
A full funeral Mass will take place at the convenience of the family in the Spring, in Danville PA, and she will be buried next to her husband in nearby Elysburg. Her family will then celebrate her life at a treasured location: The Pine Barn Inn in Danville.
In lieu of flowers, if you would like to honor Catherine's memory, please donate to any Hospice facility in your local area. They have been a blessing to us during both our parents' deaths.