Catherine M. "Cathy" King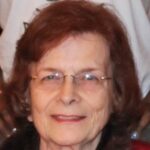 Mrs. Catherine M. (Cathy) King, 82, of Tabb, passed away Monday, August 7, 2023, after a battle with pancreatic cancer.
She was born in Greenville, NC, on November 8, 1940, the daughter of Dr. Davis Lee Moore and Catherine Tatum Moore. Shre graduated from J.H. Rose High School in Greenville in 1959, after which she attended East Carolina University, receiving a B.A. in English with a high school teaching certification in 1963. She taught English and Journalism at Hampton High School for a few years starting in 1963, then briefly at Tabb Intermediate School until the birth of her first child in 1969.
Cathy was very involved in her children's activities while they were growing up. She was a Girl Scout leader from 1979 to 1981 and served as Colonial Coast Girl Scout Council Cadet/Senior Consultant from 1982 to 1985. She loved hiking, backpacking, camping, and any activities around water. She was also an active member of the Tabb High School Tiger Band Parents, serving as publicity chairman for 4 years. An avid photographer, she enjoyed attending band activities, where she took pictures for publicity purposes and got them published in local newspapers. She continued to support her children's interests as adults, including the musical pursuits of her son and her son-in-law.
Mrs. King was preceded in death by her parents, her brother, Davis Lee Moore, Jr., her husband, Andy King, and her son, Doug King. She is survived by her daughter, Cheryl Caldwell (Kevin) of Laurel, MD, and her granddaughter, Brianna King, of Harrisburg, PA. A memorial service is to be held at Newport News Church of Christ on Saturday, August 12, at 1:30 P.M., with visitation starting at noon. There will be a private burial in Tennessee in October. In lieu of flowers, donations are requested to Liberty Youth Ranch in Bonita Springs, FL (https://libertyyouthranch.org/) or to the Central Maryland Chorale in Laurel, MD (https://www.centralmarylandchorale.org/).