Carroll Webster Gould, Jr.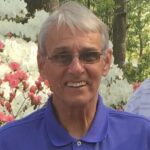 In Memoriam: Carroll Webster Gould Jr. (September 17, 1942 – July 22, 2023)
Carroll Webster Gould Jr. (Web) beloved husband, father, grandfather, and distinguished professional, passed away peacefully on July 22, 2023, in Williamsburg, Virginia. He leaves behind a legacy of compassion, service, and dedication that will forever be treasured by his family and friends.
Born on September 17, 1942, Web was a man of many accomplishments and a life filled with purpose. His unwavering commitment to family was evident through the beautiful bond he shared with his devoted wife, Sarah Dail Gould, whom he lovingly cherished for nearly 60 years.
Web was a proud and caring father to his two sons, Christopher Wayne Gould and Charles Wesley Gould. He guided them with wisdom, nurtured their dreams, and instilled the values of compassion and hard work. His presence in their lives was a source of strength and comfort, and he will be deeply missed by them and their families.
As a grandfather, Web found immense joy in the company of his beloved grandchildren, Haydon, Olive, and Wesley. He adored them unconditionally, and they cherished their time with him, creating memories that will be treasured forever.
Web's academic journey took him to William Paterson State Teachers College, where he earned a Bachelor of Arts in Education. Throughout his life, he sought to make a positive impact on others, which led him to join the United States Army and later serve in the United States Secret Service. His dedication and commitment to serving his country were commendable, and his contributions were invaluable.
Beyond his military and government service, Web found purpose in making a difference in young lives, leading him to become an Executive Director of the Boys and Girls Club of Southside of Virginia for over 20 years. In this role, he dedicated himself to shaping the futures of countless children, offering them guidance, mentoring, and a haven to grow and thrive. He then spent his retirement years volunteering for the Red Cross and as a docent at the American Revolution Museum at Yorktown.
Web will be remembered not only for his outstanding professional achievements but also for his kind heart, warm smile, and genuine compassion for others. His positive spirit and willingness to lend a helping hand endeared him to all who had the privilege of knowing him.
As we mourn the loss of this exceptional man, we also celebrate the life he lived and the great impact he had on so many. His legacy will forever be imprinted in the hearts of his family and friends, and his memory will continue to inspire generations to come.
In lieu of flowers, the family requests a memorial tribute by listening to Don't Worry Be Happy by Bobby McFerrin, a Web classic. Memorial donations can also be made in his name to Boys and Girls Club of America or the National Multiple Sclerosis Society. Both organizations were near and dear to him.
A Celebration of Life is planned for at the Yorktown Historic Freight Shed, 331 Water St, Yorktown, VA 23690, on Sunday, July 30 from 2:30-5:30 PM. For more information, please email wes.gould@nullgmail.com.
May he rest in eternal peace, knowing that his devotion and influence will forever endure in the lives he touched.