Carolyn Louise Angel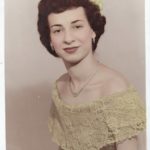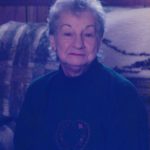 Grafton, Va. – Carolyn, 88, passed away peacefully in her sleep on November 12th, 2019. She is preceded in death by her parents, Biago and Biagina Conte of Cicely, Italy and all 12 siblings; her husband of 33 years, Ralph G. Angel Sr, son Ronald Lee Angel, daughter-in-law Melinda Kay Angel and granddaughter Terri Angel. She is survived by daughter Patricia Ann Logan and husband Dan, sons Ralph G. Angel Jr., Donald Ray Angel and fiancée, Andrea Koutsos; grandchildren Ronnie Gordon Logan and wife Kim, Stacie Angel Hahr and husband Paul, Heather Lee Logan, Sarah Louise Angel and fiancé Christopher Coates, and Ralph Bryan Angel; Great-Grandchildren Delaney Logan, Grady Logan, and Lana Hahr; former daughters-in-law Deborah Robertson Angel and Darlene Londeree; many nieces and nephews, and a very special friend, Joyce Hicks.
Born in Cleveland, Ohio where she met the love of her life. Carolyn was married in 1951 in Newport News, Va. and resided on the peninsula for 68 years. She worked for York County Schools for 30 years, beginning as a worker then Manager of Bethel Manor cafeteria, then Tabb High School cafeteria Manager before promoting to Food Service Supervisor for York County Public Schools where she planned menus for 16 county schools.
She was a member of Newmarket Baptist Church then Grafton Baptist Church after moving to York County in 1965, and most recently Providence United Methodist Church. She sang in the choir, taught Sunday school and vacation bible school, and was very involved in many groups within each church she attended. She taught her family to live in the fear and admonition of God, exemplifying a strong faith in God through the good times and the trying times of her entire life.
A special thank you to the staff of Warwick Forest for the outstanding care they provided and the love they showed during the nearly 3 years Carolyn resided there.
A celebration of life will be conducted by Pastor Sarah Locke at 11am Tuesday the 19th of November at Amory Funeral Home, 410 Grafton Dr, Grafton, Va. Burial will follow at Peninsula Memorial Park with a reception afterwards at Providence United Methodist Church, 113 Old Dare Rd, Grafton, Va., 23692. The family will receive friends from 6 to 7:30pm, Monday the 18th of November at Amory Funeral Home. In lieu of flowers, donations in Carolyn's name may be made to The Leukemia and Lymphoma Society, 5540 Falmouth St., Suite 101, Richmond, VA 23230.