Carolyn Jean Delozier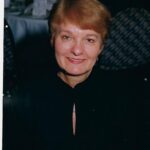 Hampton, Va.- Carolyn Jean Delozier, 81, passed away on Wednesday April 22, 2020. Carolyn was a native of Massachusetts and a peninsula resident since 1973. She retired from the Hampton Roads Transportation after 15 years of service and former member of the Hampton American Legion.
She was a preceded in death by her sons, Steven Delozier and Jeffrey Delozier and a sister Evelyn Lange. She is survived by her daughter Sandra Elledge and grandson Brenon Elledge.
Due to the current pandemic, a Celebration of Life service will be held at Amory Funeral Home Chapel, Grafton, Va. at a later date.