Carol Lee Sanders (Otte)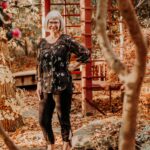 Carol Lee Sanders (Otte)
Born in Downs, Kansas November 2, 1952. Her parents, Alvin and Eileen Otte, were wheat farmers continuing in the tradition of Alvin's family.
Carol's older siblings Linda and Ken, and younger sister Jan, moved to Salina, Kansas in 1961. If you had asked Carol, this is where she grew up. She lived in Salina until she was 29.
Along with her first husband Carol gave birth to her first daughter, Cari Anne, on March 14, 1972. With the help of her Mom, Carol returned to work at the investment firm IDS. For recreation Carol and Cari enjoyed motorcycle touring with her Mom and Dad, and other family members. (Her last bike was a full-dress, shaft-drive Honda CX-500 that had been modified by her Dad for one of his bi-annual Arctic Circle motorcycle trips.)
Carol's younger sister Jan, living in Lawrence, Kansas, set up a blind-date for Carol with someone Jan's husband played with on a recreational softball team. That was May 9, 1981. Jeff Sanders was her date's name. They were married just 4 months later on August 14, 1981. Several weeks after they were married, Carol moved to Olathe, Kansas where Jeff was employed.
Carol gave birth to her second daughter, Arla June, on August 13, 1982. (This was one day short of their 1st Wedding Anniversary.
Carol was employed at Grinsted Products while residing in Olathe. In 1991, Carol and Jeff agreed to a relocation because of Jeff's work that took their family to Mt. Juliet, TN, just outside of Nashville. Cari chose to stay in Olathe to begin her own family with David Morgan.
Carol enjoyed working at Mt. Juliet Chiropractic for the next 11 years.
From 2002 to 2006 life meandered from Tennessee, to Kentucky, and then to New Hampshire in March 2006. They remained there until their retirement in July 2016. Retirement led them to again relocate, but this time it was not because of work. Instead the purpose of this move was to be near kids and grandkids. This brought Carol absolute joy!
Starting in Tennessee Carol advanced her crafting skills, especially making Christmas cards for her daughters and herself using an ever-expanding collection of Stampin' Up stamp sets. Not only was she really, really good at this, but enjoyed this as her 2nd favorite pastime, next to her grandkids and great-granddaughter! She delivered most of this year's set of cards the day before she passed away.
Carol is survived by: Her loving husband for 41 ½ years Robert Jeffrey (Jeff) Sanders, residing in Fortson, GA daughter Cari Anne Morgan, and husband David, residing in Fortson, Georgia, granddaughter Bailee Eileen Walsh, her husband Andrew great-granddaughter Elsie James Walsh granddaughter Sarah Elizabeth Morgan grandson Adam James Morgan granddaughter Jillian May Morgan and Daughter Arla June Bell, and husband Jeffrey, residing in Seaford, Virginia granddaughter Lily Grace Bell and grandson Garrett Edward Bell; her sister Linda Struchen, and husband Don, residing in Marion, Iowa and her brother Kendall Otte, and wife Dixie, residing in Osage Beach, Missouri and sister Jan Henry, residing in Lawrence, Kansas.