C. Buddy Howle, Jr.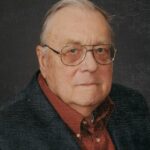 Charles (Buddy) Muse Howle Jr. was called home to be with the Lord on Wednesday, September 1, 2021. He was born on October 27, 1943 to the late Muse and Sarah Howle of Yorktown. He was raised in Yorktown and a graduate of York High School (Class of '62). He later moved to Gloucester in 1990.
He worked with the York County Fire Department before going to work with VIMS where he retired as Chief Plumber after more than 35 years of service. He was a faithful servant of God and a member of Beech Grove Baptist Church. He was also a member of Yorktown Masonic Lodge #205.
Buddy will be remembered for his quick humor, jokes and love of story telling. He was known to have silly nicknames for close family members and friends. He had a love for all things history with a special interest in the Historic Triangle. He was always willing to lend a hand to family, friends and neighbors with plumbing issues. Even in his later years if he wasn't able to do the job, he was ready to assist and walk you through the process.
Buddy was well known and loved by many. He will be greatly missed by all who knew him. To know him is to love him.
He was proceeded in death by his parents Muse and Sarah Howle and his wife Connie Gunn Howle.He leaves behind four children Kim(Anthony) Futrell of Yorktown, Staci(Al) Cote of Seaford, Becky Collins of Summerfield NC and Brad(Kim) Howle of Gloucester. He has fourteen grandchildren Nicholas and Kelleen Futrell, Brad (Megan), Alexander and Alyssa Cote, Danielle Howle, Joshua, Noah and Rhianna Collins, Amber, Ashley, and Emily Howle, Brandon and Kayla Gibbs- whom he loved dearly.
He lived his life with a huge heart full of compassion and faith.
The family will receive friends on Saturday from 5-7pm at Amory Funeral Home. A graveside service will be held at Beech Grove Baptist Sunday September 5th at 1:00 pm.