Bradley Wayne Pearson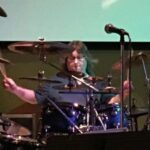 Yorktown, Va. – Bradley Wayne Pearson, 63, passed away unexpectedly on Sunday, June 21, 2020.
Bradley was born in Virginia and graduated from Tabb High School and Old Dominion University. He was employed at Newport News Ship Building for the last 22 years. Bradley loved to spend time with his wife and playing the drums. He is survived by his loving wife of 40 years Gail.
A graveside service will be held at 11:00 am on Wednesday, July 1, 2020 in Parklawn Memorial Park.