Betty Lou Southard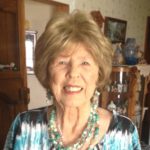 Yorktown, Virginia – Betty Lou Southard, 80, passed away on Saturday, October 12, 2019 after an extended illness. Betty was born in Elkins, West Virginia, and moved to Virginia at a young age. She was preceded in death by her husband Donald Sr., sister Vivian Bryant and brother Leonard Barkley, and grandchildren Justin and Ashley Gathers.
Surviving are her children, Sharon Gathers (John); Donald Southard Jr. and Michael Southard, and four grandchildren and two great grandchildren.
Betty was a York County school bus driver for 38 years. She loved her church, Ebenezer Baptist Church in Gloucester, shopping and chocolate.
Her service will be at Amory Funeral Home on Friday October 25, 2019. Visitation will be at 3:00 followed by the service at 4:00. Rev. Richard Ford will be officiating.